Samsung seemingly caught swapping components in its 970 Evo Plus SSDs
---
---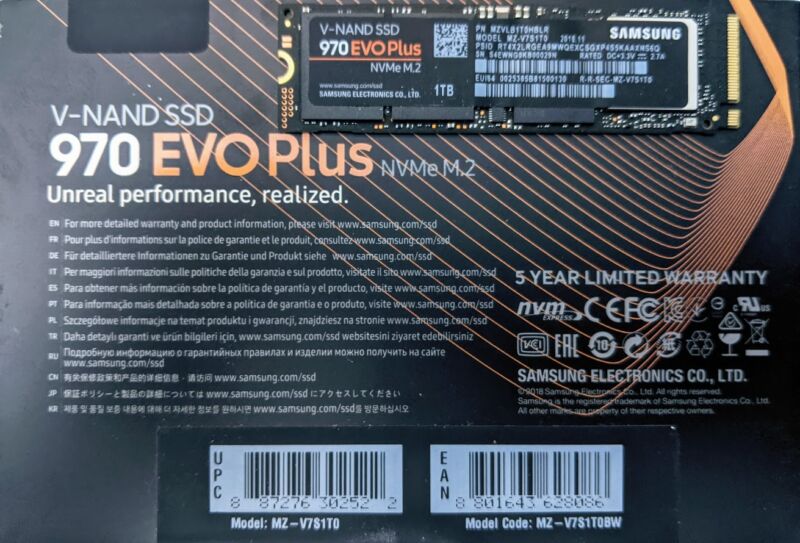 Enlarge / You can't see the part number which distinguishes the newer, slower drive from the older, faster one on the box—you need to check the PN field in the top center of the label on the drive itself. (credit: Jim Salter)
Recently, major SSD vendors Crucial and Western Digital have both been caught swapping out TLC NAND in their consumer SSDs for cheaper but much lower-performance, lower-endurance QLC NAND. Samsung appears to be joining them in the part-swapping corner of shame today, thanks to Chinese Youtuber 潮玩客, who documented a new version of the Samsung 970 Evo Plus using an inferior drive controller.
Although the consumer-facing model number of the drives did not change—it was a 970 Evo Plus last year, and it's still a 970 Evo Plus now—the manufacturer part number did. Unfortunately, the manufacturer part number isn't visible on the box the SSD comes in—as far as we've been able to determine, it's only shown on a small label on the drive itself.
Falling off the write cliff
This CrystalDiskMark test makes the newer, inferior drive look faster than the original in most tests—but notice the very small 1GiB test size. This test isn't escaping the SLC write cache! [credit: 潮玩客 ]
We tested the 970 Evo Plus (alongside the 980, and the older 970 Pro) in March, clocking it at write speeds of 1,600+ MiB/sec on 1MiB workloads. Our benchmarking was done with he old version, part number MZVLB1T0HBLR. The newer version—part number MZVL21T0HBLU—is considerably slower. According to 潮玩客's test results, the newer version only manages 830MiB/sec—half the performance of the original.
Read 6 remaining paragraphs | Comments
Continue Reading