Qualcomm Unveils Snapdragon 6 Gen 1 and 4 Gen 1 SoCs: Updating Mid-Range and Entry-Level Phones
---
---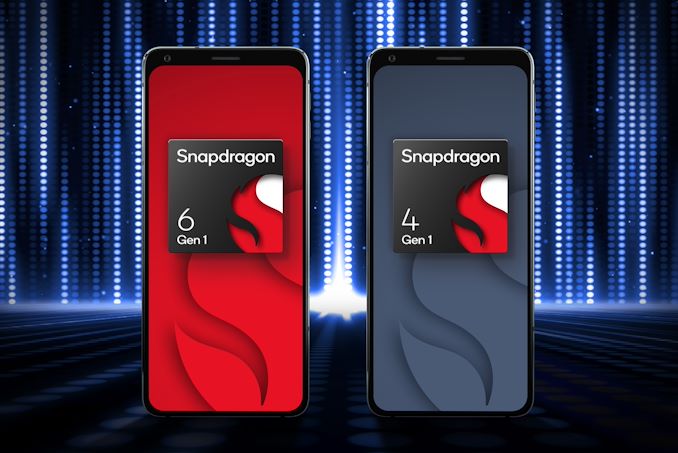 Qualcomm this morning is taking the wraps off a pair of new SoCs for the mid-range and entry-level smartphone markets. Refreshing the company's longstanding 600 and 400 series of chips, Qualcomm is announcing the Snapdragon 6 Gen 1 and Snapdragon 4 Gen 1. Both SoCs are receiving similar spec bumps, incorporating newer and faster IP blocks from Qualcomm – such as Arm Cortex-A78 derived CPU cores – as well as moving to newer, more contemporary manufacturing processes.
The Snapdragon 600/400 lineups were last updated in mid and early 2021 respectively, so as Qualcomm is already preparing for 2023, the time has finally come to update the bottom half of their product stack. Following Qualcomm's broad cascading IP strategy, this generation of parts sees both SoC lineups migrate to Cortax-A78 CPUs for their main CPU cores, and in the case of the 6 Gen 1, doubling the number of high-performance CPU cores. Both SoCs also come with faster Adreno GPUs, though in traditional Qualcomm fashion, the company isn't offering much in the way of details on the underlying hardware there.
Notably, however, Qualcomm's 2023 mid-range/low-end parts aren't making the jump to the Armv9 architecture. Unlike the 8 Gen 1 and 7 Gen 1, which incorporated Arm's new Armv9 cores, Qualcomm's cascading development strategy means that the 6 and 4 series will remain a bit farther behind the curve. For end users this should have little significance for the moment, but for smartphone vendors and software developers, it does mean Qualcomm won't complete the Armv9 transition for at least another generation.
Meanwhile, coming up on nearly a year since Qualcomm announced their initial Snapdragon 8 Gen 1 SoC, today's announcement from Qualcomm brings their remaining smartphone SoC families in alignment with their new product branding strategy. The 6 and 4 series pick up from where the 600 and 400 series left off, respectively, resetting the counted with the inaugural Gen 1 parts. Like the rest of simplified "Gen" series, this also means that Qualcomm is doing away with individual model numbers for its Kyro/Hexagon/Adreno/Spectra blocks, obfuscating a bit what generation of IP Qualcomm is using there.
Continue Reading