A List of Mobile Apps for Your Internet Privacy and Security
Internet privacy is something we all need to take very seriously in this digital age. Your data, your footprints on the internet is the new gold.
---
---
A few days ago I read an interesting article titled "Your Technology Is Tracking You. Take These Steps For Better Online Privacy" by Laurel Wamsley, who properly outlined the steps which every person on the internet should use, but to sum:
Use strong passwords or passphrases for your accounts
Don't use the same passwords
Use password managers
Use 2-factor authentication
Keep your phone and pc updated
Use a website instead of installing an app whenever possible
Use encrypted messaging apps
Turn off ad personalization
And many other important details, I recommend reading the article.
While I completely agree with all the steps mentioned in the article, the problem I see is that these steps are taken only by tech-people, because fixing privacy is getting more and more complicated. So, explaining to them to our loved ones is always harder and harder. Instead, I suggested them out-of-the-box easy to use solutions.
These solutions are the apps I personally use daily on all of my devices, they make much easier to manage my privacy and security on the internet.
PS. If you are interested in privacy topics, I recommend you to read Permanent Record by Edward Snowden.
1. Jumbo: Take back control of your data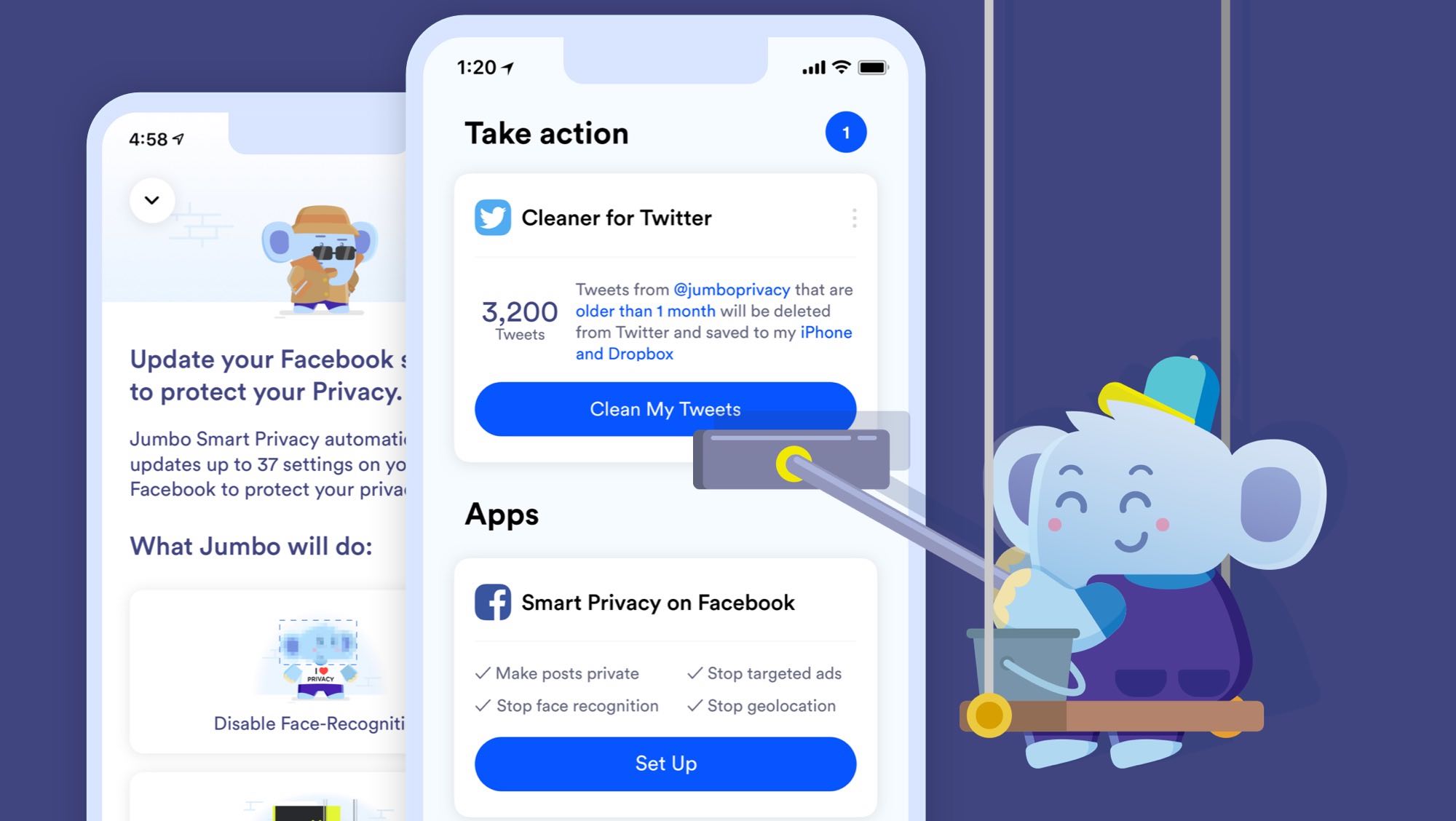 Jumbo is an app available for iOS and Android which I consider a must-have for anyone who uses the internet and social networks. It is a relatively new app in the privacy segment, but with some original features, like connecting to your social networks through their APIs and turning off tracking settings, removing search history, chat history, and much more.
It offers:
Security (dark web, two-factor authentication)
Digital Footprint (old tweets or Facebook posts; search history)
Tracking (ad tracking, social media online status)
Reputation & Data Leaks (profile info, Facebook tagging, and post visibility)
2. 1Password: Password Manager
1Password is a premium password manager, a must-have app in your security tool-kit. Available for every pc and mobile platform, it makes managing passwords painless.
1Password offers some great futures, like:
Storing login, documents, credit cards, emails, and server data
Generating strong passwords
Notifying you when the same password is used
Generating 2-Factor Authentication codes
Notifying you to activate 2-Factor Auth when available
Check for data breaches
And keeping all this in sync across all your devices
3. Authy: Authenticaticator app
Authy is the best app when it comes to managing your 2-Factor Authentication logins, it makes easier to manage 2FA logins and it is available for all pc and mobile platforms.
Some of the important futures:
Easy to set up the 2FA for all accounts
Prevent account lockout when you lose your phone
Sync 2FA across mobile, tablet, and desktop
4. 1.1.1.1: VPN
1.1.1.1 with WARP is a VPN app by Cloudflare, available for iOS, Android, MacOS, and Windows. It makes the internet connection faster and more secure by:
Replacing the connection between your phone and the Internet with a modern, optimized, protocol.
Preventing anyone from snooping on you by encrypting more of the traffic leaving your phone.
Protecting your phone from security threats like malware, phishing, crypto-mining, and other security threats when you enable the 1.1.1.1 for Families option from the DNS settings inside the app.
5. DuckDuckGo: Privacy-based web browser
DuckDuckGo is available as an extension for Firefox and Chrome, or as an app for iOS and Android. In any way, it will improve your internet surfing by:
Automatically blocking hidden third-party trackers.
Searching the internet without being tracked.
Forcing sites to use an encrypted (HTTPS) connection where available.
Each site you visit gets a Privacy Grade (A-F) so you can see how protected you are.
Secure your browser with Touch ID or Face ID.
Bojan Vidanovic is a computer programmer and tech geek. Love making internet products, blogging, learning, reading, calisthenics and fitness enthusiast.