OK, hear me out: Having a desk bike is actually pretty great
---
---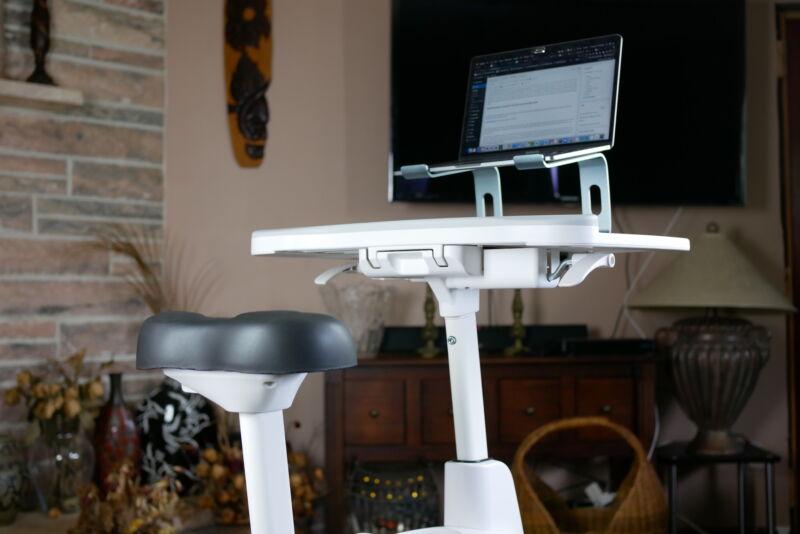 Enlarge / Behold: It is both desk and bike. (credit: Corey Gaskin)
If you work from home, it's a good idea to spice up the home office from time to time. Some of us have been living the telecommuting life for longer than others, and while we at Ars have some extensive experience (and an equally comprehensive guide on the best gear for home offices), we still like to periodically change things up to meet our dynamic needs. That's how I found the Desk Bike.
Well, that, and I'm recovering from a foot injury that recently got me into biking as a mode of low-impact exercise. Nevertheless, Flexispot's V9 Desk Bike now sits in my room and gets consistent use. You (or your kids) might have seen this very bike make waves on TikTok recently—Flexispot's ad campaign proved a savvy and fruitful move, garnering over 2.5 million likes and coverage from many media outlets.
It's well-known that exercise, even in the form of a 30-minute daily walk, produces a wide range of positive impacts on physical and mental health. But as of 2018, 80% of American adults don't meet that daily threshold. It can be hard to peel ourselves away from the computer and actually move our bodies, but not doing so is literally killing us. The Desk Bike isn't a magic bullet for healthy living, but it can help you be more active and get out pent-up, fidgety energy during the day.
Read 8 remaining paragraphs | Comments
Continue Reading